I am Iris. I am a Mermaid. My words reach you through a channel chosen by me in order to communicate with our brethren from the surface.
I take long walks along some of your coasts, to feel the air that you breath going in and out of my lungs, just like you normally breathe. We can breathe air, but you cannot breathe underneath the water.
The Mermaids are capable of staying for a prolonged period out of the security provided by our seas, but when the sun dries our skin too much, we can suffer from a dangerous dehydration if we do not quickly wet our skin. That's why we normally walk on the rocks and cliffs of the mainland during the night time hours, when the sun doesn't shine and dry our bodies. It also helps us go more unnoticed by you, for at that time everybody sleeps.
We know that many among you, well, the majority, would treat us well; but there are still some in your surface world that would capture us to study our physical bodies or to exhibit us in aquariums, like they do with many marine and oceanic species. We would become strange creatures that people would pay to see. They would not care if we lost our freedom, if our captivity would satisfy the curiosity of your scientists or provide revenue to your aquariums.
The incomprehension and egotistical interest amongst some of you is what prevents us from getting to know each other openly, and for the two races (the submarine and the terrestrial) to become friends. That is exactly the same reason why our brethren from the Stars has not contacted anyone of the surface yet.
But they have done so with us; and in fact, we visit them frequently in their transoceanic bases each time we go by their "scientific" emplacements. They are very loving beings who receive us and look after us with much love, a profound respect and with much joy. They open for us their enormous domes so that we can come in and talk with them. They are travelers from other worlds, and even other dimensions, and they are used to contacting beings of all kinds.
The day that your world changes and you open the communication with beings that are different from you, then you will be able to contact our brethren from Space and also us.
Until then, we await that moment. Meanwhile, we will have to be satisfied with communicating with you through those who already have such talent, who have been born with a mission to become intermediaries, even in a hostile and distrustful world towards those who are not like them.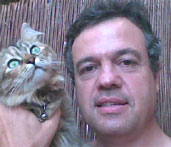 KRIS-WON
was born in the Island of Mallorca (Spain) in the Mediterranean Sea in 1961, where he currently resides. He got the gift of channeling when he was 21 years old, while he belonged to a spiritual group in Palma de Mallorca. He has traveled to countries with ancient cultures of undeniable spiritual influence such as India, Mexico and Egypt. In 1985 he personally met the Indian Master Sathya Sai Baba. His teachings and guidance influenced his life profoundly, so he dedicated himself to translating a great deal of Sathya Sai Baba's teachings to Spanish during the last 10 years. By late 2009, he joined our group of translators and began to translate other channelers' messages. Shortly after that, Alpha Starship began to dictate him their first messages.